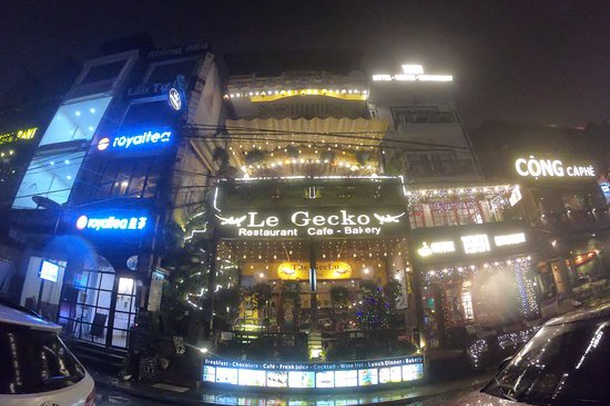 Located in the center of Sapa, very near to the church and post office, Le Gecko has been long a trustworthy destination for tourists whenever they travel to Sapa. With the design of integration between Vietnamese and French architecture and the view on Sapa Park, the restaurant is the great choice to watch local people doing the daily activities while enjoying delicious meals.
Le Gecko itself includes a bar, a hotel and a restaurant. The bar is open during normal business hours, and the restaurant is a wooden traditional H'Mong house with Black Mong decoration. The staff is extremely helpful and all members can speak English fluently.
The restaurant serves both Vietnamese and Western cuisines, and Pizza-sandwiches -pasta are among the most favorites dishes. In addition, Le Gecko also offers daily special $5 meals, including Sapa Soup, spring rolls, principal plate, bowl of rice and dessert. The price of the restaurant is rated as a little bit higher than average.